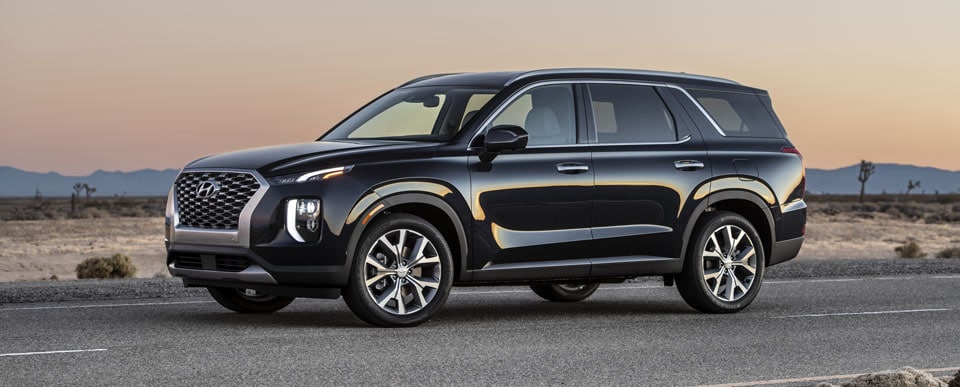 ?
For many years, the Hyundai Santa Fe XL (formerly the Santa Fe until the 2019 model year) had been the largest crossover you could get from the Hyundai brand, but that's all changing this summer. In the coming months, a new and more luxurious beast will be rolling up to our dealership, and its name is the Palisade! Let's see what this new SUV has to offer Hyundai shoppers.
Size
The upcoming 2020 Hyundai Palisade is a three-row SUV that seats up to 8 passengers, so you'll have plenty of room for the kids and even their friends. Power-folding seats on the third-row make taking advantage of the cargo space even easier, and the available hands-free liftgate is very useful too! If you're worried that your voice won't carry all the way to the back, there's an In-Car Driver Talk system that ensures everyone hears your requests.
Safety
When you have a car full of eight people, safety quickly becomes of the utmost importance, and the Palisade doesn't disappoint. Here are just a few of the highlights.
Standard safety: forward collision-avoidance assist and smart cruise with stop/go
Available safety: a safe exit assist for people out back, rear occupant alert, blind spot monitoring, and rear cross-traffic alert
Luxury
The size of the Palisade isn't the only reason the upcoming model is getting a lot of attention. The 2020 Palisade is also taking the Hyundai brand's reputation for elegance to premium levels. There's an available 10.25-inch touchscreen, which is a size that's synonymous with luxury models, available nappa quilted seats, and a crisp layout that is sure to offer timeless style for SUV shoppers who are looking to buy rather than lease.
If you're ready for a premium vehicle that'll turn heads on the street and delight you with its amenities, stop into our dealership for a test drive!