New Hyundai Accent For Sale in Reading, PA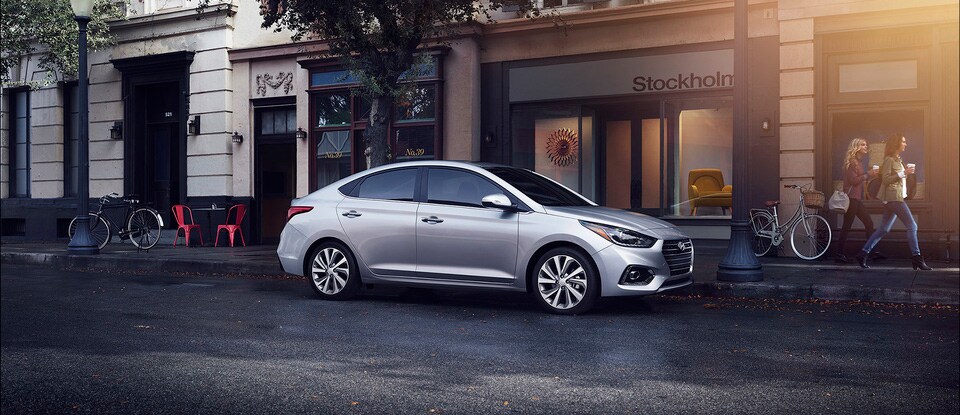 Find a New Hyundai Accent For Sale in Reading, PA
The new Hyundai Accent includes a wealth of features that make it stand out from the crowd. The Hyundai Accent excels in all the key areas that consumers appreciate most, including performance, handling, safety, and technology. Contact us here at Seidel Hyundai in Reading, PA to find out all the details about the new Hyundai Accent and learn more about our inventory of new Hyundai vehicles for sale.
Performance

Performance is an important quality to consider when you are buying or leasing a new car. The new Hyundai Accent excels in its ability to handle more roads with poise. You will get a four-cylinder engine with the Hyundai Accent and a superior fuel economy that puts the Hyundai Accent at the top of its class. If saving money at the pump is a top priority, the Hyundai Accent is the car for your adventures around Limerick and Shillington.
Enjoy Top-Notch Design and Great Technology in a New Hyundai Accent
The Hyundai Accent is a feature-rich sedan that's packed with value no matter which trim level you choose. Naturally, each successive trim adds a bit more in amenities than its predecessor. No matter which trim level of the Hyundai Accent that you get, you can look forward to a wide range of amenities that includes superior safety aids, technology, and comfort. The Hyundai Accent comes standard with a number of popular technology features including Bluetooth, smartphone pairing, and USB connections. The base trim of the new Hyundai Accent has a five-inch display, along with four-speaker sound system. Alloy wheels are added starting on the second trim level, which also gets Android Auto™ and Apple CarPlay™. The second trim also has a larger touchscreen display. Multiple USB ports, heated front seats, and leather upholstery are premium features you can look forward to on the higher-end trim levels. Some upscale features are offered with the higher-end trim levels, such as a leather-wrapped steering wheel and gear shifter that are available on the top Hyundai Accent trims. You can also get a push-button ignition by upgrading to certain trim levels.
Safety is Our Priority
As one would expect from a Hyundai, safety is a top priority on the new Hyundai Accent. The Hyundai Accent earns four stars in safety ratings from the NHTSA. The Hyundai Accent is configured with many advanced driver-assist safety aids that include Blue Link technology, which provides an emergency notification system and smartphone-based emergency assistance, forward collision warning, and disc brakes. The Hyundai Accent also has other notable advanced safety aids such as automatic emergency braking, pedestrian detection, and blind-spot monitoring. The Hyundai Accent has a variety of passive safety aids as well including seat belts and airbags to keep you safer around Wyomissing and Reading, PA.
Design

The Hyundai Accent has a premium design inside and out. The exterior has some variations depending on the trim level that you decide to get. However, you can look forward to many attractive features such as alloy wheels, which are added to most trims, a sunroof, and LED headlights.
Why Buy a Hyundai Accent from Our Reading, PA Dealership?
With all that it offers, there are many great reasons to consider the Hyundai Accent for your next vehicle. The Hyundai Accent comes in a number of trim levels to provide all the options that you want and need for just the right finish. You can explore the Hyundai Accent in greater detail through our website, which also has a handy search tool that allows you to browse our Hyundai Accent inventory.
Contact us today at Seidel Hyundai and get ready to see exactly why the new Hyundai Accent is by far one of the best driving experiences possible. We look forward to working with you soon!