A Practical and Reliable Sedan for the Benefit of Pennsylvania: The Hyundai Elantra
When it comes to your next sedan, you're not looking for the flashiest, most expensive and fastest car you can get your hands on. The most important qualities your sedan needs are the simplest ones: fuel efficiency, excellent drivability in any weather condition, safety and affordability above all else. These might seem like simple qualities, but they can often be hard to find, especially when people around you might be clamoring more for the most stylish and flashy cars. Fortunately for you, we have just the car to offer here at Seidel Hyundai: the Hyundai Elantra. This affordable new sedan gives you all the functionality you need with just the right amount of fun-filled technological features to make your drive a lot easier and more fun. This sedan is available for you right here in Reading, Pennsylvania and it starts at just $14,450!
Lots of Engines, Lots of Efficiency
You need a sedan that can go a lot further between destinations with fewer stops at the pump and the Hyundai Elantra doesn't disappoint in this regard, no matter which of its three available engines you choose. There's the 2.0-liter, 147-horsepiower DOHC inline four-cylinder (I4) engine with dual continuously variable valve transmission (D-CVVT) which gains an EPA-estimated 19miles per gallon in the city and 38 miles per gallon on the highway; this engine is standard on the SE, SEL, Value Edition and Limited trim levels of the Hyundai Elantra. The Sport trim level offers speed and efficiency with its 1.6-liter, 201 horsepower DOHC turbocharged I4 engine which gains an EPA estimated 22 miles per gallon in the city and 30 miles per gallon on the highway. The most fuel efficienct engine, however, is the 1.4-liter, 128 horsepower DOHC turbocharged I4 engine which is standard on the Eco trim level and gains an EPA-estimated 32 miles per gallon in the city and 40 miles per gallon on the highway.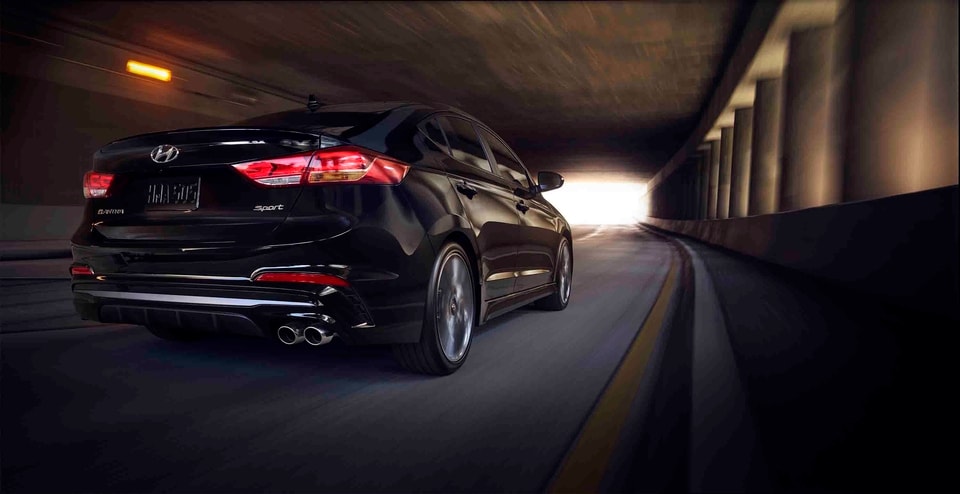 What Do You Need for Your Commute?
Whether it's technology to help guide your way through the morning traffic or just some extra entertainment features to brighten your day, why not check out all the other trim levels of the Hyundai Elantra to see what you can add on to this convenient sedan? The Limited trim level is, by far, the most technologically-advanced trim level and it begins at the affordable price of $19,600. For your safety, the limited trim features Forward Collision Warning, Automatic Emergency Braking with Pedestrian Detection, Lane Keep Assist, Lane Departure Warning and Smart Cruise Control. If you like a little extra entertainment, then you won't be disappointed in the sound system of the Limited trim, which features the Infinity® Premium Audio System with HD™ Radio and eight speakers as well as an eight-inch navigation system.
Hyundai Elantra Trim Levels
Hyundai Elantra SE: The base trim of the 2020 Elantra is anything but basic. With dual-zone automatic climate control you and a passenger can each customize your own individual comfort levels. Meanwhile, forward collision avoidance assist scans the road ahead and warns you of trouble, and can even apply the brakes to help slow you down.
Hyundai Elantra SEL: With a seven-inch infotainment display you'll have a wide range of information and apps at your fingertips. Access Apple CarPlay and Android Auto to seamlessly integrate your smartphone. You'll even get help in traffic thanks to the blind spot collision warning. Those same sensors help you back out of your driveway or parking lot safely thanks to rear cross traffic collision warning.
Hyundai Elantra Value Edition: When you want the best mix of features for the money, this is the model for you. You'll enjoy heated seats to stay warm in the colder months, while the power sunroof floods the cabin with natural light and opens at the touch of a button. Keep your keys in your pocket with the proximity key that operates both the push-button start and hands-free trunk release.
Hyundai Elantra Eco: A 1.4-liter turbocharged engine helps you achieve up to 41 mpg highway and 33 mpg even in the city. A seven-speed ECOSHIFT transmission helps you manage power delivery to optimize efficiency, and you'll still enjoy great features such as the proximity key and LED headlights.
Hyundai Elantra Limited: Enjoy high-end touches such as leather upholstery and the Infinity Premium audio system that plays your favorite playlists with stunning clarity and depth. A wireless charging pad makes keeping your devices charged easier than ever, while automatic high beam assist gives you excellent nighttime visibility when you need it, without blinding oncoming traffic.
Hyundai Elantra Sport: Give yourself a boost with the 1.6-liter turbocharged engine of the Elantra Sport. At 201 horsepower and 195 pound-feet of torque, it'll be hard not to grin when you put your foot down. Multi-link rear suspension provides improved handling while full-LED headlights and taillights make a statement to those around you.
Get Your Journey Started Right!
The Hyundai Elantra can be everything you need in your next car and it's available for you in Pennsylvania right here at Seidel Hyundai at Nine Parkside Avenue in Reading, so come on down to our dealership and test drive the all-new Hyundai Elantra today! If you have any questions, don't hesitate to give our sales team a call during regular business hours at (866) 891-0473. See you soon!